Journey into New/Old Territory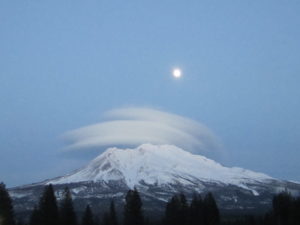 Even though Mt. Shasta is my spiritual home, I knew earlier this year that I needed to make changes to get "out there" more. I knew that I needed to interact with new people to stimulate me and also to be more visible and to get my coaching practice, teachings, sweat lodges, women's groups trainings, Vision Quests, and now possibly a new training in Peru next year, going.
So let me give you a bit of background to this old…and new…territory of each book store. I knew the original owner of East West Bookshop in Mountain View. I was in their first meditation group many moons ago, plus I ended up on their board of directors. I was asked to buy the bookstore, but then we had the amazing opportunity for Swami Kriyananda to buy the bookstore, which was obviously a very good idea for bringing amazing teachers from all over the world to East West.
Portland has been an important part of my life for several decades. It was at New Renaissance Bookshop in Portland where I first met up with my biological dad when I was 40 yrs old, plus my former husband had a  family cabin in Washougal, so I often visited the nearby Saturday Market in Portland with my boys.
I visited New Renaissance Bookshop again when my son was living in Portland to get his residency and to apply to dental school. While visiting New Renaissance, I noticed the book  Seat of the Soul book by Gary Zukav, and realized that I had supported Gary in a sweat lodge with my mentor, Native American teacher Charlie Thom from the Mt. Shasta area.  While Gary was famous and often on Oprah and other talkshows, I didn't recognize him in the sweat lodge. Seeing Gary's book in New Renaissance made me feel the call to return and share my own teachings and wisdom one day.
I did finally make it back to New Renaissance this year in April. I held two group talks on the Medicine Wheel and I loved both of them! I will return to New Renaissance at least two times before the end of October. Though Portland is a far drive from my home in Mt. Shasta, it was worth the drive. Coming home to these bookstores is def. good medicine for me that reflect a long history of change for me. It was coming home to my teachings and my joy of being with people and being of service in their healing and journey on the Medicine Wheel. I'll be posting the details of my two upcoming bookshop talks in July here.
I always start out my bookshop talks with a prayer, making it clear that I want participation from the group. I am determined to know the  people who show up to my talks, wanting what they have to share and to teach me. I know me, but what I want to know is you — and how I can be of service to our journey. I always have a plan for the talk but once we roll my psychic intuition and the group sets the tone about where we are going. I then share about  the benefits of my coaching practice that includes in person visits to Mt. Shasta to work with me in the beautiful energy of my beloved Mt. Shasta, plus  phone or zoom sessions where I support and coach people.
I have gratitude to the Angels, Guides, and Ancestors for creating a whole new paradigm for me in my progression plus to Jennifer Witherspoon for her help in editing my materials. I also have deep gratitude to Claire Potter the events coordinator at New Renaissance Bookshop in Portland and to Chrystal Aulson of East West Bookshop in Mountain View, CA.