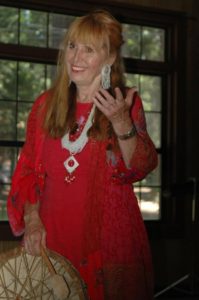 So this summer went by with a great Eclipse Aug. 21, 2017 one that was huge, we had a small group up at Sand Flat, drumming, praying, and singingI didn't realize that we would see 90% of it but once I did I put the call out to drum and say prays our small group was amazing. The summer went by great first The Best of Mt Shasta, after my big birthday transition it was great, met great presenter's, plus great people we just need more people coming to the event. My Mom carried my block of wood from my display here hit her leg took a huge section of skin off 20 stitches later darn after such a great weekend. It was a huge process, we went to Kona on Labor Day the next day after the flight her wound was oozing so we went to urgent care, they were very concerned, almost ended up in the hospital with IV's but took oral medication that upset her stomach. I got up early ran each morning watching the sunrise so awesome feeling so blessed having a great condo. What was awesome I had 4 sessions sitting out on the porch, now feeling I love my clients and doing it this way. I felt it opened up more possibilities for me to do this more often. Also with Mom's limitation made me slow down read a great book which being in Bill Baren's Coaching Program reading all kinds of material letting my reading go or not reading as often as I like. We went to Hilo to visit our favorite Temple, eating amazing food, by then Mom was feeling better.
Coming back I am feeling more motivated to do more!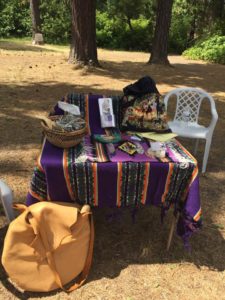 I had started making a commitment to get to workouts at 6 am with not only the attempt to workout but also to change my brain messages; I am too tired, it is too early, on & on. I have achieved that for 6 + months feeling great about it all plus really focusing on achieving more still standing a bit still with my web site just starting to change it, plus push toward doing a launch 6 week course on FB but doing it conference call or zoom modality. I asked the friend astrologist Carol when she had done a reading for me contacting her when we got back asking why I am not moving forward more she said that it isn't time yet. Astrology will move more by the end of the year, however that doesn't ease my conscious or my coach wanting me to move.
So now I am definitely looking forward to those changes anxious, today I have confirmation from favorite clients that were here for a session and fire ceremony, plus my other client's birthday writing all her has achieved, then having a friend say she wants to do Quest this year, plus has a friend who also wants to do it. I want to do 4 people that seems possibly 3 already, yahoo, great day!
My Marketing Message:  I work with professionals who are stuck and unfulfilled after focusing on their careers/business's. I help them with having fulfilling relationships, creating a life that turns them on, big Vision creating life changes that creates a dynamic life.